Posted by Fee
20 August 2008, 2:55 pm
(image courtesy http://freetibet2008.org/globalactions/lightbanner/)
For Immediate Release
Media Contact:
Joanna Raczkiewicz
212.937.6580 x233
press@eyebeam.org
www.eyebeam.org
EYEBEAM ALUM JAMES POWDERLY DETAINED IN BEIJING
No word from the American artist 24 hours after being taken into Chinese custody
Powderly was in Beijing to unveil a project made with pro-Tibet activist group
New York City, August 19, 2008, 7:30PM EST- Artist and Eyebeam alum James Powderly was detained by Chinese authorities in Beijing early Wednesday, according to a message received by Students for a Free Tibet around 5PM Beijing Standard Time, said an SFT spokesperson. The message, sent through the social networking site Twitter, read "held since 3AM", said friend and SFT board member Nathan Dorjee. Powderly has not been heard from since-more than 24 hours later-and his whereabouts remain unknown, he said.
"Freedom of speech has always been central to James' practice, and we support this commitment. Most importantly, we hope for his quick release," said Eyebeam Executive Director Amanda McDonald Crowley. Powderly was a fellow in Eyebeam's R&D OpenLab in 2005-2006, and a senior fellow in the OpenLab from 2006-2007.
Powderly is also co-founder of the Grafitti Research Lab, a project developed during his fellowship at Eyebeam. He was in Beijing collaborating with the activists to project messages onto the facades of prominent Beijing buildings using a laser beam and stencils. The artist was detained before the planned launch of the project-dubbed the "Green Chinese Lantern"-in which a beam of light would be used to display graphics and text on structures up to two stories high, said Dorjee. It is unclear how Chinese authorities learned of the plan.
Also today, five activists with Students for a Free Tibet were detained after displaying a banner that spelled out "Free Tibet" in LED Throwies, the open source technology pioneered by the Grafitti Research Lab and popularized online and worldwide. This brings the number of SFT protestors detained in Beijing to 42. In the majority of these cases, the individuals were heard from and deported within 6-12 hours of their arrest, said Dorjee.
Upon learning of the detention, fellow artist, collaborator, and current Eyebeam senior fellow Steve Lambert said, "He's an amazing, entertaining, brilliant, and committed person. Not all of us have the courage to travel to China to make such a statement at a key time like this. He's a great friend and obviously, like so many others, I'm concerned about his well-being. I hope he's allowed to return home as soon as possible."
The L.A.S.E.R. Stencil technology is a modification of the GRL's L.A.S.E.R. Tag, which was featured in the 2007 Eyebeam exhibition Open City. This portable, updated version is the size of a flashlight, requires one person to operate, and is intended for use with homemade micro-stencils.
Students for a Free Tibet, a group with more than 700 chapters worldwide, has been staging protests in Beijing over the course of the past two weeks. According to Dorjee, who is also the group's technical advisor, GRL technology was an ideal fit for the spectacle of the Olympics, and called the GRL the "go-to group for open source urban expression".
For the latest information and images, please visit the website of Students for a Free Tibet: http://freetibet2008.org/
Additional images for download:
The Grafitti Research Lab, with images made using the L.A.S.E.R. Stencil (in the US): www.grafittiresearchlab.com
LED Throwies: http://www.flickr.com/photos/urban_data/tags/ledthrowies/
Boing Boing: http://www.boingboing.net/2008/08/19/beijing-activists-de.html
The Washington Post: www.washingtonpost.com/wp-dyn/content/article/2008/08/19/AR2008081901287.html
###
Eyebeam is an art and technology center that provides a fertile context and state-of-the-art tools for digital research and experimentation. It is a lively incubator of creativity and thought, where artists and technologists actively engage with culture, addressing the issues and concerns of our time. Eyebeam challenges convention, celebrates the hack, educates the next generation, encourages collaboration, freely offers its contributions to the community, and invites the public to share in a spirit of openness: open source, open content and open distribution.
Eyebeam's current programs are made possible through the generous support of The Atlantic Foundation, The Annenberg Foundation, The Pacific Foundation, the Johnson Art and Education Foundation, the John D. and Catherine T. MacArthur Foundation, the Jerome Foundation, Dewar's, Deep Green Living, ConEdison, Datagram, Electric Artists Inc.; public funds from New York City Council Speaker Christine C. Quinn, the New York City Department of Cultural Affairs, the National Endowment for the Arts, and the New York State Council on the Arts, a state agency; and many generous individuals. For a complete list of Eyebeam supporters, please visit www.eyebeam.org.
Location: 540 W. 21st Street between 10th & 11th Avenues
Hours: Tuesday - Saturday, 12:00 - 6:00pm
Bookstore: Tuesday - Saturday, 12:00 - 6:00pm
Admission: All events are free to the public with a suggested donation unless otherwise noted.
Posted by Fee
4 August 2008, 1:04 pm
It's been a while, but new activities have prompted us to keep posting…
grlaustralia.com is up and running!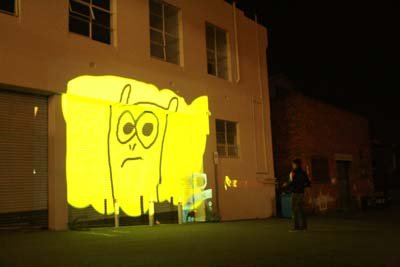 Jerrem Lynch, one of the GRL Masterclass participants from earlier in the year, is keeping the dream alive in WA. Check out his blog and facebook group for updates, or apparently if you just do random searches online you'll find other people documenting the events too. He says "For me its these accounts and experiences that make this worth while, hopefully people can be inspired and dont freeze too much next time". Excellent work Jerrem, keep it up!
Back in SA you should be on the lookout for some grl-inspired happenings for the SALA festival, check their website and blog for details.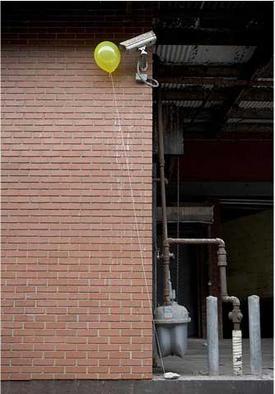 And finally, elsewhere in the world (USA), artist William Lamson reclaims public spaces with some beautiful interventions.
Posted by Lachlan
17 March 2008, 5:59 pm
*Sob* As the tears flow and the sweat pours in Adelaide's sweltering heat and misery, we morn the absences of two gentlemen of light from NYC. The dust and Throwies are settling, Adelaide's streets have lost their sheen and we look inwards to lessons learned from our blitzkrieg pedagogy. Where to? Who? How? Why? Where? What for?
But do not fear my friends for there is still one out there who has the foresight and drive to power on through Adelaide's blistering heat wave (a heat wave that has now almost doubled the standing Australian record!!! Ouch!). Jo Kerlogue is our woman. Continuing her tribute to another equally sweltering Australian record holder: Anne Willsy.
For Jo's hot image collection, in tribute to our Logie award wining woman of the moment: [click here].
Plus…
HOW TO GUIDE: How To Herd Sheep